Creating a Chinese Hub
Grant Thornton Luxembourg is dedicated to providing a full range of services to Chinese companies and investors in Luxembourg and Europe as well as companies in China seeking access to European markets. We also assist local companies seeking to expand their business in China.
It's given us a deep understanding of the unique issues facing the Chinese community. It means we can help you navigate the Luxembourg market.
We offer a wide range of assurance, tax, and advisory services. So, whatever challenge you face we have the breadth and depth to help you succeed.
Capabilities (English)
Download PDF [2154 kb]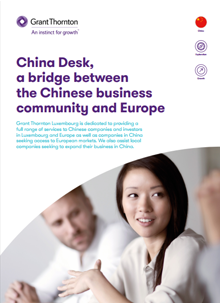 Our services
We also know that every organisation is different. Our China desk specialists apply their sector understanding to provide advice and tailored solutions to achieve your organisation's goals, including:
Accounting and tax services
Business consulting and corporate secretarial services
Financial advisory services
Business risk services
Regulated financial services
Audit and assurance
Human resources and payroll services
Your key benefits

Multi-lingual professionals - Chinese (Mandarin and Cantonese), English, French, German, and Luxembourgish - who will spend time with you to understand in depth your business and your needs
Advisers with experience in both Chinese and European markets
Advice and services tailored to your size and sector
One stop service provider and one central coordination point: the China Desk will leverage the full range of personalised services that can be found under one roof within Grant Thornton International network to ensure that you are provided with every aspect of advice that you may require
Relationships with regulators, tax officials, and relevant government entities will help you overcome legislative challenges and seize business opportunities
Global presence and strengths
Transborder expertise regarding tax issues
Cultural knowledge and understanding in both Chinese and European cultures
To learn more about our services to the Chinese community, contact Yiduo Zhang, our Luxembourg China Desk Leader.
Capabilities (Mandarin)
Download PDF [2962 kb]