We offer Information Security services with a strong security expertise to avoid data breaches. We also have dedicated resources for all your cybersecurity challenges.
Our services
At Grant Thornton, we are your trusted partners in safeguarding your digital world. With the ever-evolving landscape of cyber threats, we understand the critical need for robust cybersecurity measures to protect your organization from potential breaches and data compromises.
Our mission is simple: to empower businesses of all sizes with the knowledge, expertise, and cutting-edge solutions they need to stay ahead of cyber threats. Our team of seasoned cybersecurity professionals brings years of experience and a passion for staying at the forefront of the industry's latest advancements.
Why choose us?
Tailored Solutions for Your Unique Needs

: We believe that one size does not fit all when it comes to cybersecurity. We work closely with each client to understand their specific challenges and design customised strategies to address their unique risks.

Proactive Approach to Security

: In the fast-paced world of cybersecurity, being reactive is not enough. We adopt a proactive approach, identifying potential vulnerabilities before they become threats and implementing robust defenses to keep you one step ahead.

Industry Expertise You Can Rely On

: Our team consists of certified cybersecurity experts with a track record of success across diverse industries. From finance to healthcare, from startups to multinational corporations, we have the knowledge to protect your business.

Comprehensive Services:

Whether you need risk assessments, incident response planning, security awareness training, or compliance assistance , our comprehensive range of services has you covered from all angles.

Ethical and Transparent:

We operate with the utmost integrity and transparency. Our ethical practices ensure that you receive unbiased recommendations tailored to your best interests.
Your Cybersecurity Is Our Priority
We understand that your business's data and reputation are invaluable assets. That's why we work tirelessly to protect what matters most to you. Our dedication to excellence has earned us the trust of countless satisfied clients, and we're excited to extend the same level of commitment to your organisation.
Whether you are a small startup looking to establish a secure foundation or a large enterprise seeking to fortify your existing defenses, Grant Thornton is here to guide you every step of the way.
We offer a wide range of comprehensive cybersecurity services designed to protect your organisation from the ever-evolving landscape of digital threats. Our team of seasoned experts is committed to providing tailored solutions that address your unique challenges and ensure the safety and integrity of your digital assets.
Discover how our suite of services can bolster your cybersecurity defenses:
1. Cybersecurity Risk Assessment
Identifying vulnerabilities is the first step in fortifying your organisation against potential cyberattacks. Our thorough risk assessment process involves in-depth analysis to uncover weaknesses in your network, applications, and infrastructure. We then provide you with detailed reports and actionable recommendations to strengthen your security posture.
2. Security Strategy and Consulting
Our experienced consultants work closely with your team to develop a comprehensive cybersecurity strategy aligned with your business goals and risk appetite. We help you prioritise investments, select the right technologies, and implement best practices to create a robust defense against cyber threats. Also, our cybersecurity services can assign you a CISO that understands regulatory requirements for your company. Delivered on premise or remotely, our CISO on-demand services are tailored to fit your business needs of short- or long-term engagements and complement the skills you already have in-house.
3. Security Awareness Training
Employees are often the first line of defense against cyber threats. We conduct engaging and interactive training sessions to raise awareness about common risks, phishing attacks, social engineering, and best practices for maintaining a secure digital environment.
4. Compliance and Regulatory Support
Staying compliant with industry-specific regulations and data protection laws is crucial for business continuity. We provide expert guidance and support to help you navigate through complex compliance requirements and ensure you meet the necessary standards. From CSSF Circulars to ISO standards, DORA and NIS2 Directives, our specialists are well-versed in a wide range of industry-specific regulations. We conduct comprehensive assessments of your current practices, identifying areas of improvement, and assisting you in implementing the right security measures to achieve and maintain compliance.
5. Cloud Security Consulting
As businesses increasingly adopt cloud technologies, ensuring cloud security becomes paramount. Our cloud security experts help you design, implement, and manage secure cloud environments, ensuring data integrity and confidentiality.
6. Vendor Risk Assessment
Third-party vendors can introduce potential security risks to your organisation. Our vendor risk assessment evaluates the security practices of your partners and suppliers to minimize the impact of their vulnerabilities on your business.
At Grant Thornton, we are committed to delivering excellence and ensuring your organisation's digital safety. Our goal is to empower you with the knowledge and tools necessary to face cybersecurity challenges head-on, providing peace of mind and enabling your business to thrive securely in the digital world. Let's collaborate to fortify your defenses and protect your valuable assets against cyber threats.
Take the first step towards a more secure future today. Reach out to us for a consultation, and let's explore how we can elevate your cybersecurity posture to new heights.
Let's Secure Your Tomorrow, Together.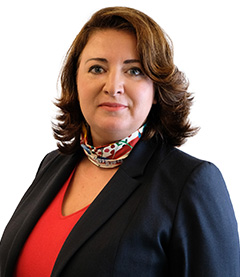 Get in touch
Partner, Head of Business Advisory & EU Institutions