Real Estate & Construction Leader
Bruno Fromaget
Get in touch
Increased focus of the investors in the core real estate
Real estate investments across Europe has emerged as being more creative and innovative asset class for the investors. There has been continuous rise in development projects as well.
This increased focus of the investors in the core real estate assets requires local market knowledge, an international perspective and also a high degree of financial expertise in areas of auditing, tax, accounting and valuation services which must be taken into account as generated by rapid changes in legislations and regulations which are forcing companies to continuously rethink how they could realise value and secure a competitive advantage through real estate investments.
Capabilities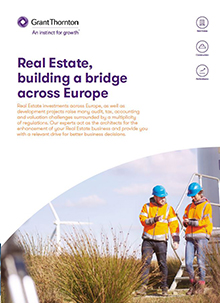 Why Grant Thornton Luxembourg?
Our teams have developed in-depth expertise across the full spectrum of the Real Estate industry including property companies, real estate infrastructure funds, engineering and construction companies, developing projects...
Our experts act as the architects for the enhancement of your Real Estate business and provide you with a relevant drive for better business decisions.
We understand that your business is unique. We will take the time to get to know you and your organisation so we can deliver tailor-made solutions.
Our services
Tax structuring and domiciliation
Tax advisory and compliance
Regulatory and financial reporting
Accounting, consolidation and statutory reporting
Audit and assurance
Asset valuation and corporate finance services
Due diligence, mergers and acquisitions, exit strategies
Waterfall, carried interest computation
Your key benefits
Stable and highly specialised professionals with a collaborative mindset
Agile and responsive services delivering you tailored responses to your local and global needs
A culture built on genuine interest in your challenges and opportunities
An international presence through our global network allowing for further guidance and recommendations
To learn more about our services to Real Estate structures and investors in Luxembourg, contact Bruno Fromaget, our Luxembourg Real Estate & Construction Leader.